What If You Could Peek Inside The Minds Of Men And Learn Exactly What They Want ...
Attention:
His Birthday and Your Anniversary Are Right Around the Corner ...

Stock Up Now


Blow Job Coupons
Do you know the difference between a hamburger and a blow job?
[No!] Do you want to do lunch?
What is a Blowpon?
A Blowpon is a coupon for a blow job.
Show your lover how much you love him.
Give them to your lover, boyfriend, hottie that you see on the street,
co-worker or anybody that you want to do:
Good:

While Driving


Anyplace, Anywhere


In the Shower


Before Work


After Work


Sunday


While Drinking a Beer


While smoking a joint


When You're Bad


On My Birthday


Actual size is 6.5 inches wide - 4 inches tall.


...plenty more - 20 coupons in all.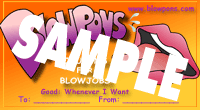 All you have to do is, click on the link below, proceed to checkout.
Give them to your lover ... he will love you forever!
Fun for: Birthdays, anniversaries, weddings, bachelor/bachelorette parties, Holidays, Valentine's Day, Steak and a BJ Day (3/14/10) - any day you want to say "I Love You."
Only $9.97 - Click below
Blowpons ® is a registered trademark of Bonnie's Gang.
Blowpons © All Rights Reserved. Legal Notice: DON'T STEAL OUR STUFF -
we will hunt you down. All concepts, ideas, graphics, and copy are the property of Bonnie's Gang.
Blowpons are protected by international copyright laws.
Images and text are all trademarks and COPYWRITED by Bonnie's Gang